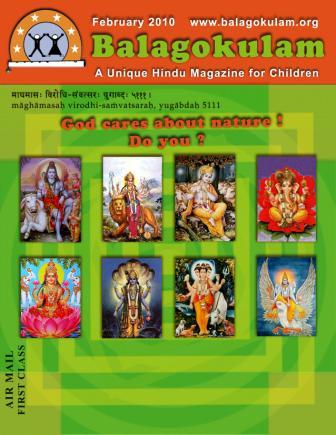 Magazine will offer
Art
Stories

On inspirational personalities
From epics like Ramayana, Mahabharata
Teaching strong moral aspect from Panchatantra.


Poetry


Essays

On festivals, visits to ones native places or a place of pilgrimage.



Crossword puzzles
And much more!! Of course, competitions on all of the above aspects.

Magazine is published in:

April (Chaitra Maase)
August (Shravana Maase)
November (Kartika Maase)
January (Pausha Maase)

Our goals are:
Facilitate children to appreciate, learn and practice Hindu way of life.
Instill pride and confidence in Hindu children about their identity.
Raise Hindu awareness in the society around.
Unleash the creativity and leadership skills among children.
Subscribe now
$11 for 4 issues
$20 for 8 issues
$25 for 12 issues
Payment Options:

1. Pay by Credit/Debit Card through PayPal by clicking Subscribe button.




2. Pay by check. Mail a check payable to HSS, with Balagokulam Magazine, in memo. Mail it along with this form to:

Balagokulam Magazine
19976 Beekman Place
Cupertino, CA 95014 - 2453
For More info please contact:
E-mail: subscribe at balagokulam.org
Phone: 40-VST-BGMAG i.e. (408) 782-4624